Choosing the Best Dog Training Treats
Resource Center Menu

Choosing the Best Dog Training Treats
Dog treats are an integral part of any training routine, so they should be a high priority on your pet shopping list. "Using treats in the beginning of teaching a behavior will help establish the behavior and build muscle memory," says Lina Eklöf, pet services manager, dog training education at Petco. But with the variety of treat types and brands on the market, you might feel confused about the best dog training treats or best puppy training treats to buy for your pet. To help make the decision easier, here are a few things to keep in mind.

What to look for in a dog training treat
Treats won't replace the time, effort and consistency you need in training your dog, but they will help.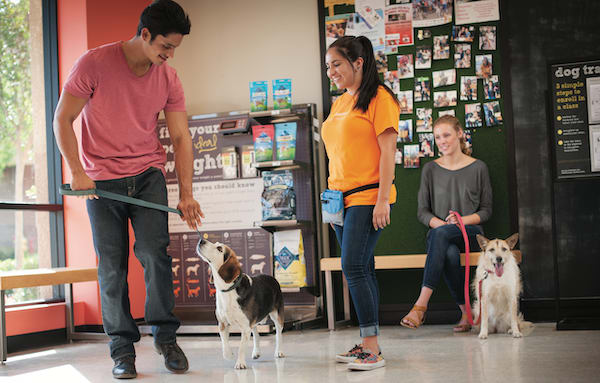 Although every dog is different and what they will respond to will vary, Eklöf says, there are some guidelines that pet parents should keep in mind when searching for a training treat.

When a dog is first learning a behavior or is in a setting with a lot of distractions, Eklöf says, "high-value" treats should be used over "low-value" treats.

"Low-value treats are often something the dog is given on a daily basis, such as the dog's regular kibble," says Eklöf. "A high-value treat is usually something more out of the norm, which will keep the dog's attention—even outdoors with a higher amount of distractions."

High-value treats may contain novel proteins or have particularly strong odors—known to many as "stinky treats,"—compared with regular training treats, which may be smaller or have less of an odor.

If you are not training your dog in a high-distraction setting, such as a crowded park or on a busy walk, Eklöf says it's best to keep your dog guessing. "Having different valued treats mixed together can keep it fun and interesting for the dog," she says. "Sometimes mixing in a type of treat which the dog usually does not get—like a freeze dried fish treat—can add extra flavor."

Additionally, buying dog training treats that are easy to break into smaller pieces are ideal for easy rewarding on the go.

When using treats to train, it's important to keep an eye on your dog's daily caloric intake and avoid feeding them too many high-calorie treats that could cause weight gain. "Always partner with your veterinarian if you are concerned about your dog's health and weight," says Eklöf. "Work with them and your dog's trainer to determine the best types of treats to use."
Dog training treats to consider
Although pet-store shelves are full of treat options, here are a few dog training treats we like: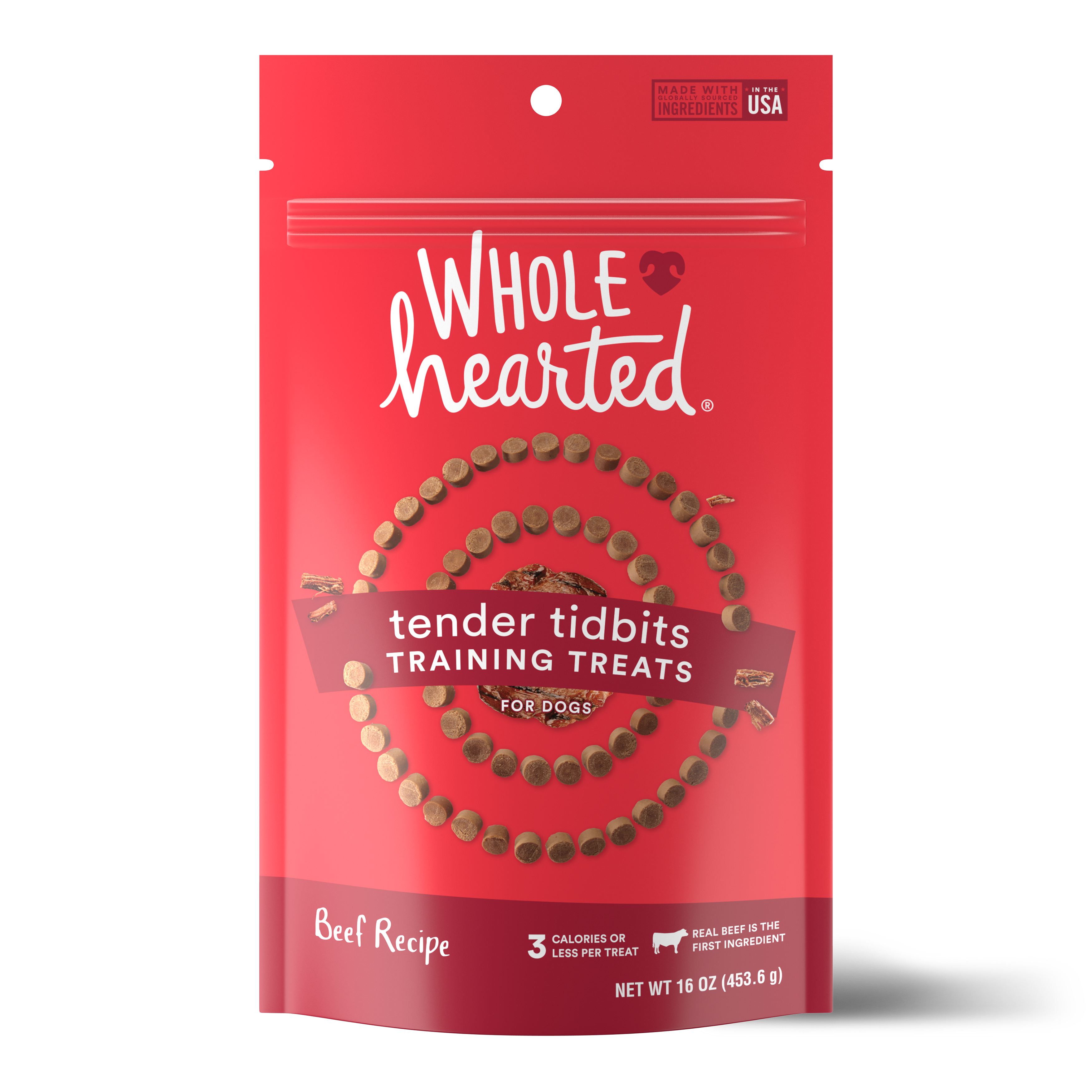 WholeHearted Training Treats
These grain-free dog training treats are already small, making them quick and easy to distribute during training sessions. They come in a variety of flavors including beef, chicken, salmon and peanut butter, and reviewers rave about their chewy texture and quality ingredients.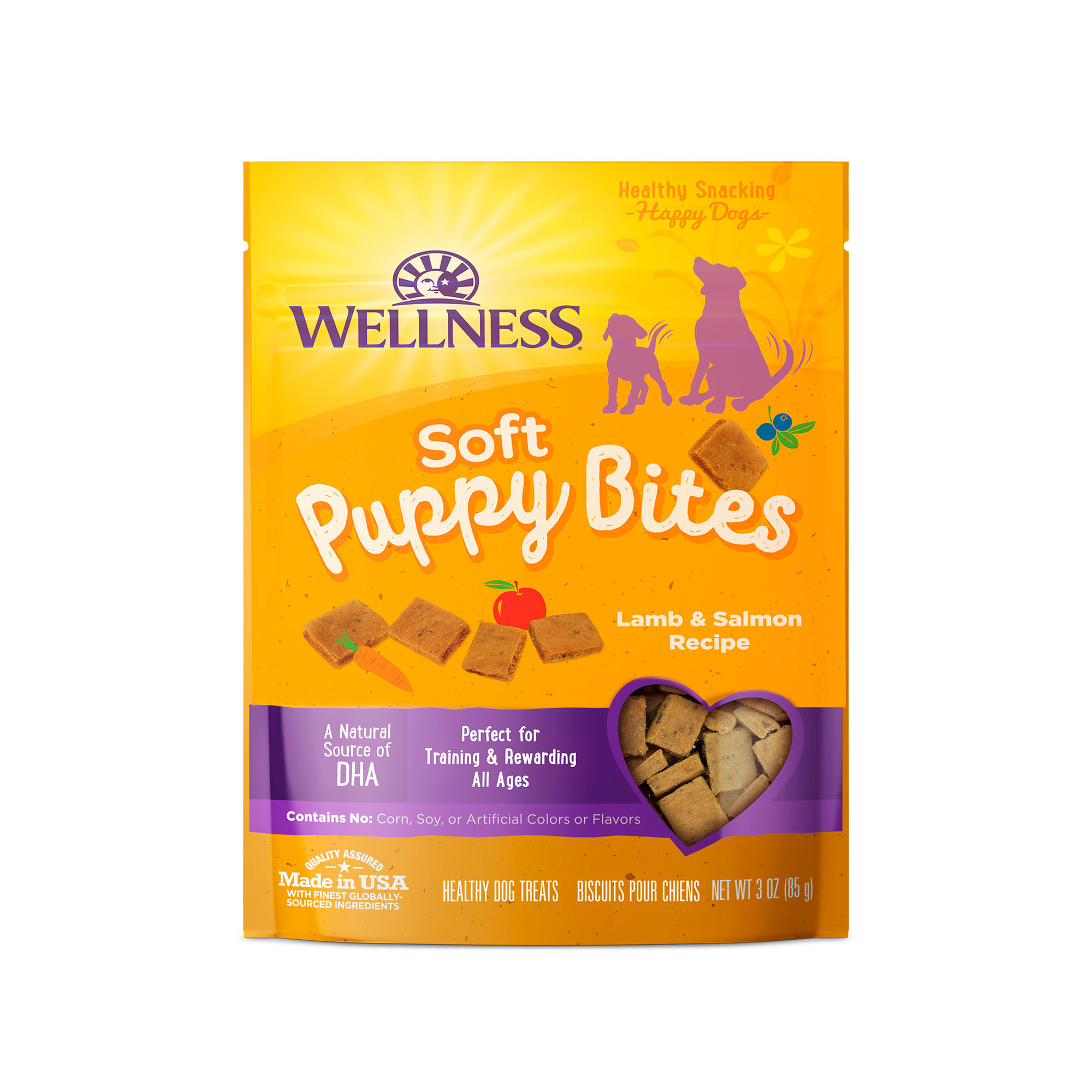 These puppy training treats are designed to entice young learners to pay attention with their yummy lamb and salmon flavor. Their texture makes them easy to break apart for the perfect size when needed.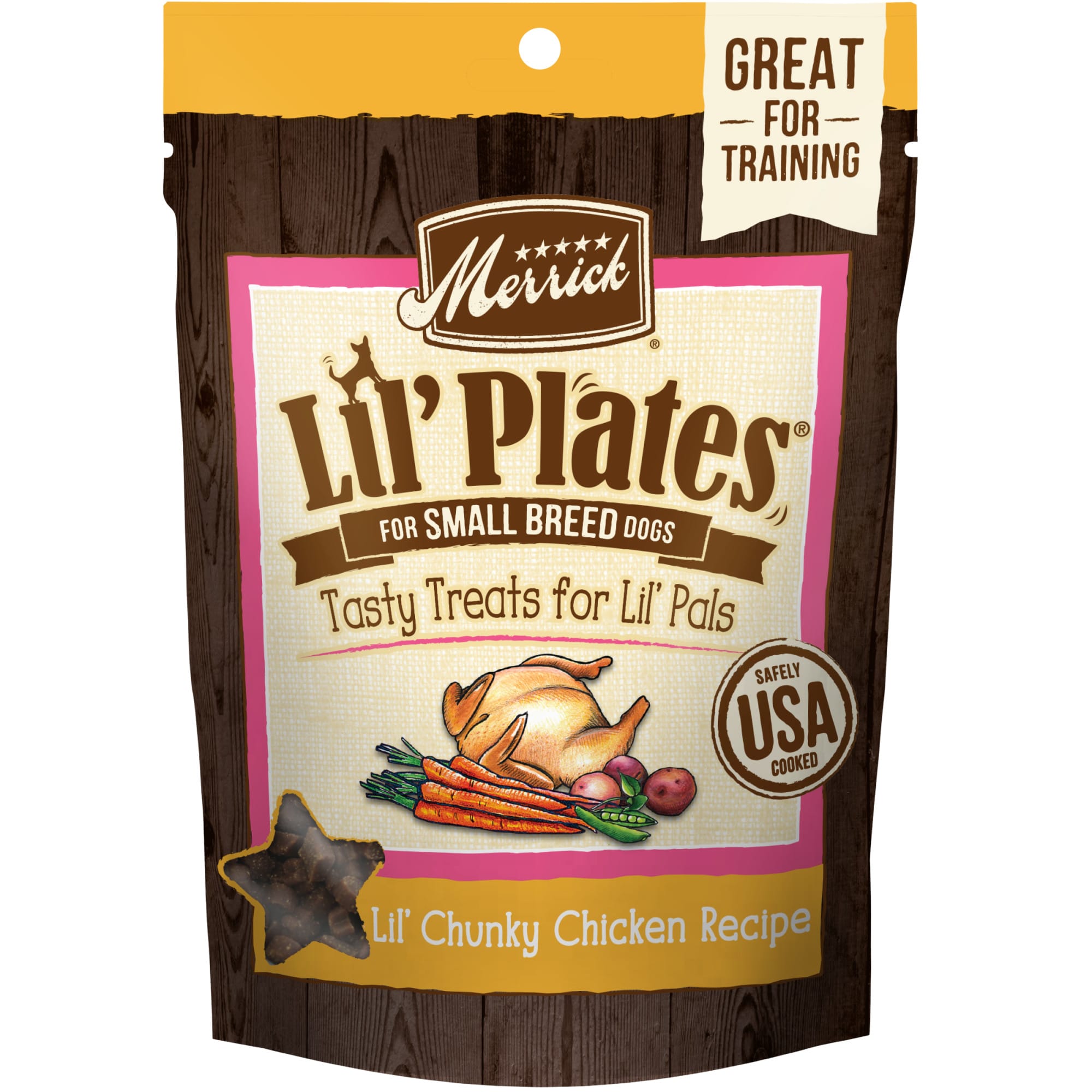 Merrick Lil' Plates Training Treats
These tiny training treats from Merrick are made from real deboned meat, poultry or fish and formulated with omegas 3 and 6 fatty acids. Their small size makes them great for little puppy mouths or for delivering training treats quickly to older dogs. "The smaller the treat, the quicker the dog can consume it and resume training," says Eklof.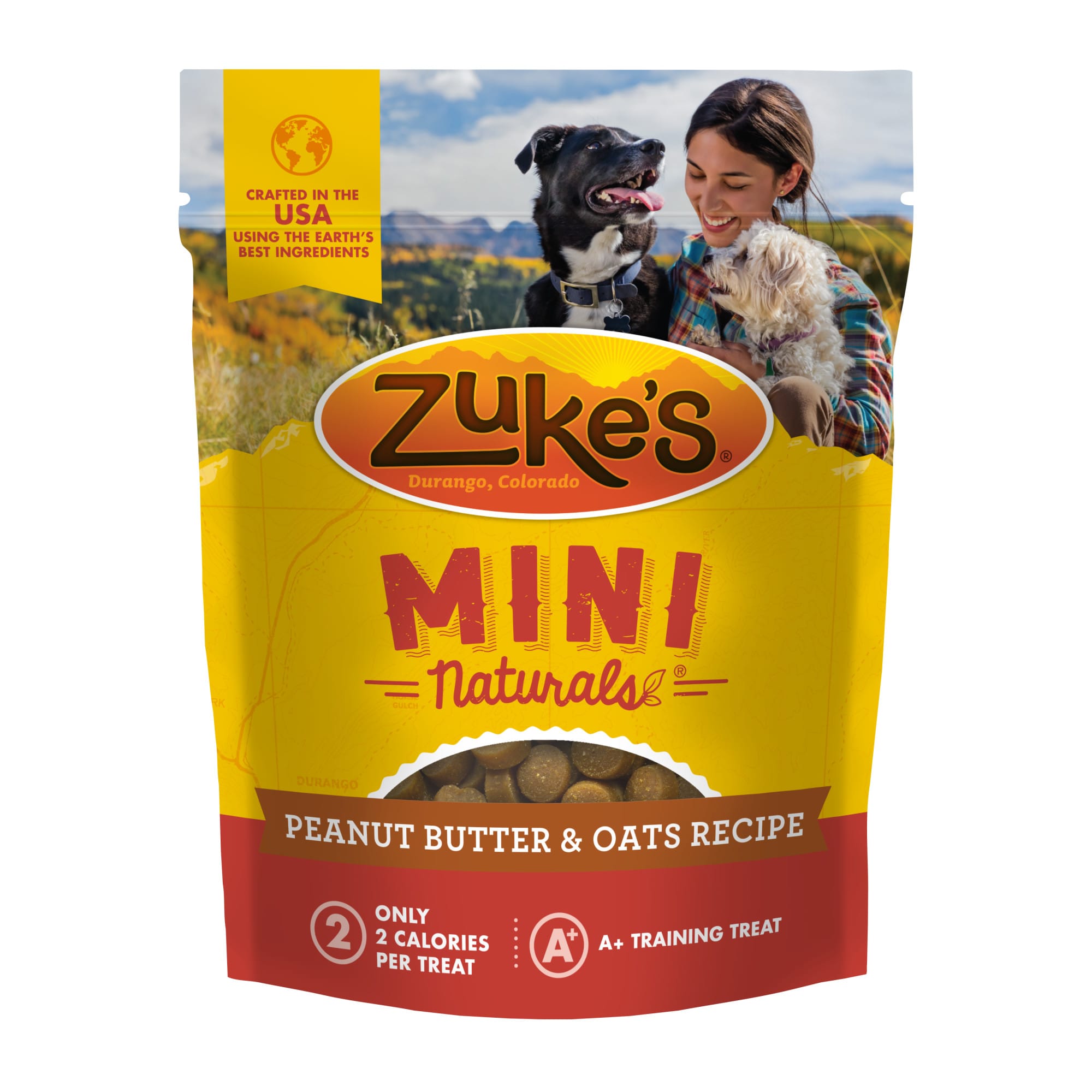 Along with being a great size for treat-tossing cameras, Zuke's are the perfect bite-sized option (weighing in at only 3 calories each) for your training sessions. There are a variety of textures and options to choose from, so you're sure to find a treat that your dog will respond to and enjoy.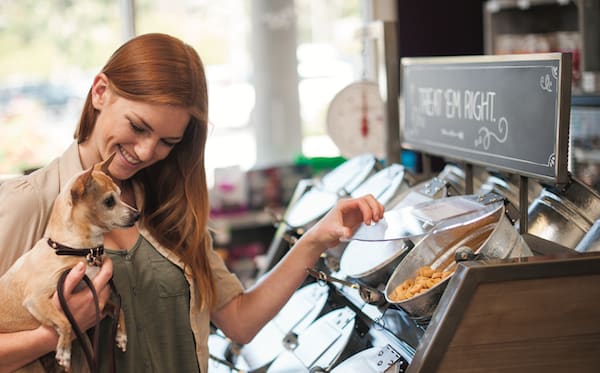 For the ultimate in variety, texture and flavor, stop by the Petco Dog Treat Bar and fill up a bag with mix-and-match training treats that will keep your dog interested during longer training sessions.

Bonus tip: Eklöf recommends that pet parents use treat bags during training for easy access, quicker and timelier treat delivery along with safe storage. "A treat pouch can keep treats out of pockets, where they sometimes are accidentally left." she says. "This stops dogs from chewing through pockets to get the treats and prevents pet parents from accidentally running a treat-filled pants pocket through the wash."
When to start cutting back on treat rewards
Regularly treating to reward your dog is important in the beginning stages of learning a behavior. But, eventually, you can start using other reward mechanisms as these behaviors become more ingrained in your dog's life.

"We can never stop 'paying' our dogs for offering and completing behaviors we are asking for," says Eklöf. "But treats can be substituted for other rewards such as play, affection and verbal praise."

She adds that natural rewards like sniffing, engaging with the environment, or going for a walk can also be used instead of dog training treats.

Dogs enjoy a mix of treats and other rewards during training. "Often it is the act of earning and getting a reinforce or reward that holds more value," says Eklöf.

If you're ready to kick your dog's training routine into high gear, now is a great time to explore the different varieties of dog and puppy training treats at Petco.

You can also visit your nearest store location and ask our associates and trainers for their recommendations about the best dog training treats for your canine companion.