What You Need to Know Before Adopting a Dog
Resource Center Menu

What You Need to Know Before Adopting a Dog
If you are considering adding a new dog to your family, adopting a dog from a shelter or rescue group is an incredible way to provide a loving home for an animal in need.
But before you fill out the paperwork and pick out toys and treats for your new pet, there are important considerations to take into account—especially for first-time dog parents.
"Dogs come in all shapes and sizes. They have different energy levels and grooming needs," says Anne McLaughlin of the Humane Society of Missouri. "Think about your lifestyle and the personality of your ideal dog. Consider your current family situation and who will be interacting with and caring for the dog."
If you're just getting started with the dog adoption process, consult this guide for advice on how to adopt a dog and the steps you should take when deciding which pet is the right fit for your family.
How to adopt a dog
If you are considering dog adoption, there are several organizations available to explore. These include animal shelters and rescue groups. Shelters may be operated by a city or county, or they may be privately owned and operated. Rescue groups may have a physical shelter location, or they might operate through a network of dog foster families.
As you begin your search for a new dog, visit shelters and attend adoption events in your community to get familiar with the adoption process and begin learning about different dogs that are available for adoption.
Before you make a final decision, it's important to research the shelter or rescue group you're considering to make sure you understand its policies and procedures for adoptions. "Each shelter has different fees and requirements for adopting a pet," says Rena F. Lafaille, director of administration, shelter and veterinary services, at the American Society for the Prevention of Cruelty to Animals.
When it comes to selecting the perfect canine companion, here are some important things to consider and discuss before making a decision:
Make sure you're ready for pet parenthood. Adopting a dog is a lifelong commitment and it's not a decision to be taken lightly. "The first step is to make sure everyone in the household is ready for the responsibility," says Lafaille. "When adopting, you are making a commitment to care for an animal for the rest of their lives—that could mean 10 to 15 years for dogs. As you go through lifestyle changes such as moves, the birth of children and new jobs, your animal will remain a permanent part of your life."
Identify the type of dog you want to adopt. In order to narrow down your dog adoption choices and find the right fit, it's important to research the type of dog best for your family's lifestyle.
This starts by thinking about whether you want to adopt a puppy or an adult dog, and spending time researching the personality traits and energy levels of different dog breeds. Before you start your search, you should decide on the qualities you're looking for in your new dog.
"Think about your lifestyle and the personality of your ideal dog," says McLaughlin. "Are you looking for an adventure buddy to go on hikes and camping trips? Or would you rather have a couch potato to snuggle while you stream your favorite movies and shows?"
Consider your home environment. Your home environment and living situation may dictate the type of dog you decide to adopt. If you rent an apartment, you may need to get approval from your landlord before bringing a dog home. If you live in a city house or apartment that is small on space or has limited outdoor access, a smaller or less active dog may be an ideal fit over a larger or more active breed.
"Talk to your shelter or rescue's staff about the qualities you are looking for in a dog," says Lafaille. "It is extremely important to ask a lot of questions to the adoption staff about the dog to better understand their personality and behavior."
How much does it cost to adopt a dog?
Most shelters and rescue groups charge dog adoption fees, and those fees typically range from $50 to $500, depending on your location and the type of dog you are looking to adopt. Puppies tend to have higher adoption fees than older, adult dogs.
"Every adoption center has different fees," says Lafaille. "Some adoption centers provide microchipping and spay or neuter [services] in the initial adoption costs as well as other benefits such as collars and I.D. tags. It's a good idea to read about or ask about your chosen shelter or rescues fees and benefits before adopting so you'll be prepared."
Before adopting a dog, it's imperative that you and your family are prepared for the ongoing costs associated with pet parenthood.
"Routine veterinary care like vaccinations, flea and tick treatments, and heartworm preventatives can add up quickly," says McLaughlin. She also cautions that "Illness and injury could arise unexpectedly," making it a good idea for pet parents to consider purchasing pet insurance or setting aside an emergency fund for their pet in case of unexpected expenses.
Other expenses such as grooming, pet sitting, and the ongoing costs of buying food, treats and toys should also be considered before adopting a dog.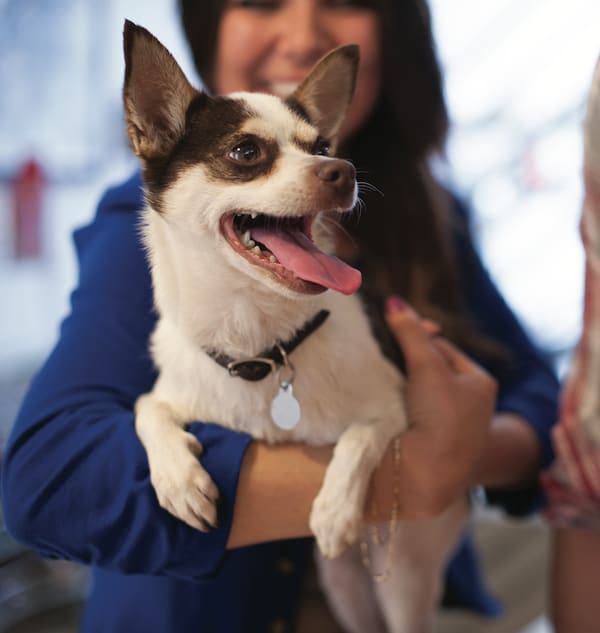 Dog adoption tips for first-time dog pet parents
If you've never been a dog parent before, don't stress—prepping for a new canine companion takes research, time and energy, but it's incredibly rewarding. Here are some tips to help first-time dog pet parents who are considering dog adoption:
Ask lots of questions. If you're new to pet parenthood, you won't have all the answers right off the bat. During the adoption process, make sure to use the staff and volunteers as resources. "Adoption counselors and shelter staff are a wealth of knowledge, and they're happy to answer any questions about the dogs in their care," says McLaughlin. "They may have information…about their personalities or habits before coming to the shelter."
Pet-proof your home. Before welcoming your new dog into your home, make sure to identify and address any potential safety hazards such as steep stairs or toxic plants or foods left out on counters or within reach of the dog. "Examine your home and think about 'puppy-proofing' by securing cords and picking up items that may be dangerous should a new dog decide to chew away," says McLaughlin.
Establish a routine. Quickly establishing a regular routine helps dogs acclimate to their new surroundings and adjust to your schedule and lifestyle. "Dogs are creatures of habit, and getting them on a schedule helps them understand what you want from them and when," says McLaughlin.
Consider training classes. If you need some additional help teaching your new dog appropriate behaviors at home, consider investing in dog training classes. "If your pet needs to learn some basic manners and skills, you might benefit most from group obedience classes," says Lafaille. "Group classes are also ideal for young puppies who need socialization."

If you decide you may still need time before adopting a dog of your own, you may also want to talk to adoption groups in your area about volunteering or fostering a dog while you are waiting for the right time, and the right pet, to come along. To find an adoption group in your area, or search for adoptable pets, check out Petco Love for more information.