Nature's Variety - Instinct raw

Transform your pet's life with Instinct® Raw – the leader in raw frozen diets for dogs and cats.
Instinct® Raw
As more people seek the highest level of nutrition for their pets, raw food has become a growing movement in pet health. Nature's Variety is the leader in the raw frozen category. Instinct® Raw mirrors what your pet would eat in nature, but it's offered in a convenient and nutritionally complete diet that your pet will love!
Instinct® Raw fulfills your pets' instinctive nutritional needs with 100% grain-free and gluten-free nutrition, resulting in vibrant health you can see. After all, your pet's instinctive nature is to eat more meat, poultry, or fish protein and less grain. Instinct® Raw is also highly digestible and nutritionally dense – perfect for satisfying your pet's carnivorous cravings and nutritional needs.
find a store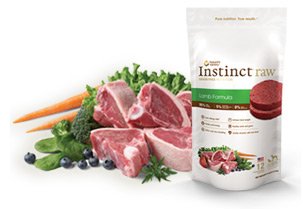 ---
Instinct® Raw Bites™
It's the nutrition of raw in a form as convenient as kibble. Instinct® Raw Bites™ provide a convenient, "scoop and serve" piece size that thaws in minutes!
Formulated to mirror a pet's ideal ancestral diet, Instinct® Raw provides natural enzymes for digestive health, pure ingredients for optimal nutrient absorption, and nutritious oils for healthy skin and coat.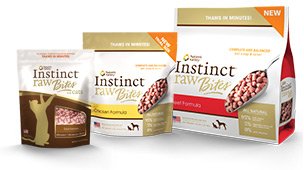 Instinctive, raw nutrition as nature intended.