Wee-Wee® Pads
Wee-Wee® Pads - Standard
Standard Wee-Wee® Pads offer pet parents more freedom and peace of mind should their dog need to relieve himself indoors, whether for puppy training, incontinence, or any other issues that may require indoor "relief" to be available. Made with Wee-Wee's reliable 5-ply leak-proof Floor Armor® System, our Standard pads measure 22" x 23" and are available in a variety of quantities.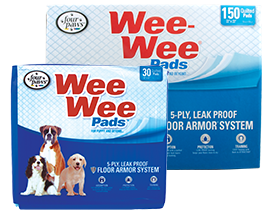 ---
Wee-Wee® Pads - Super Absorbent & Odor Control
Four Paws® Performance Plus pads include Wee-Wee® Super Absorbent Pads, which are larger than the standard size and provide all-day protection, as well as Wee-Wee® Odor Control Pads, which eliminate odor from urination upon contact.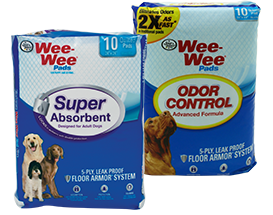 ---
Wee-Wee® Pads - X-Large & Gigantic
Wee-Wee® X-Large pads are 80% larger and more absorbent than the average housebreaking pad, and Wee-Wee® Gigantic pads are 140% larger and more absorbent. These extended sizes are perfect for large breeds or households with multiple dogs.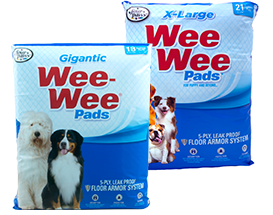 ---
Wee-Wee® Pads - Eco, Scented, & Décor
These innovative new Wee-Wee® Pads combine all the performance qualities of our standard pads with special features. Wee-Wee® Eco Pads take an Earth—friendly approach—their top absorbent layers are made with bleach-free and dye-free tissue and fluff, and the leak-proof liner is made from 50% recycled material. Scented Wee-Wee® Pads provide a pleasing aroma of lavender and chamomile, and Wee-Wee® Décor Pads feature a stylish grass pattern for a more natural look.