Up to 35% off Flea & Tick
Protect your pet.
Up to 35% off Flea & Tick
20% Off Your First Repeat Delivery: Use Code RDSAVE20
Close

Save 20% Off Your First Repeat Delivery: Use Code RDSAVE20
Save 20% With Code RDSAVE20
The 20% discount is valid only on first-time Repeat Delivery orders.
Exclusions apply.
Copy Promo Code: RDSAVE20
previous
next
Bayer Menu

Seresto® provides the performance you expect from a flea & tick topical in an easy-to-use, 8-month collar.
With its innovative delivery system, Seresto® offers a breakthrough in flea and tick protection for both dogs or cats for eight months.
Here are the benefits you can expect from Seresto®:
No need to remember monthly applications
Continuous supply of low concentrations of active ingredients provides effective 8-month protection
Non-greasy, odorless, easy-to-use
KILLS fleas
REPELS and KILLS ticks for 8 months – If a tick is repelled or killed, it cannot attach to a dog or cat and transmit organisms that may cause diseases.
Water-resistant† – no need to remove the collar before swimming/bathing
†Seresto is water-resistant and remains effective following a shampoo treatment, swimming or after exposure to rain or sunlight. Under normal conditions, effectiveness lasts for 8 months. In order to maintain an eight-month duration, dogs must not be bathed more than once per month. For dogs that swim once a month or more, the control duration is reduced to 5 months.
Available in three sizes – Large dog, small dog or cat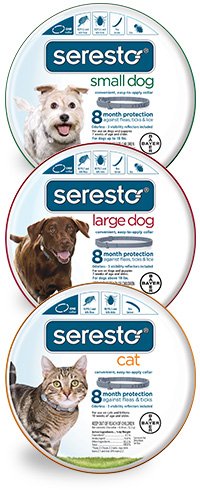 Shop Now
---
Repelling ticks is important
Repelling ticks is important in preventing the transmission of disease-causing organisms. A tick that is repelled or killed can't attach to a dog or cat. A tick that doesn't attach can't transmit the organisms that could cause disease.
Common tick-transmitted diseases include: anaplasmosis, Rocky Mountain spotted fever, ehrlichiosis, Lyme disease and cytauxzoonosis (cats only).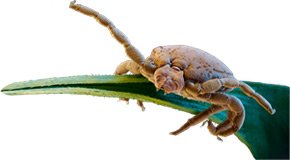 ---
Discover other Bayer products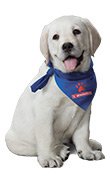 All products
See all your options from Bayer HealthCare Animal Health
shop all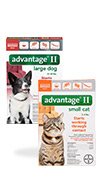 Advantage® II
Works through contact so fleas don't have to bite to die.
learn more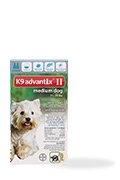 K9 Advantix® II
REPELS and kills ticks, fleas and mosquitoes.
K9 Advantix® II is for use on dogs only.
learn more
Bayer, the Bayer Cross, Advantage, K9 Advantix, and Seresto are registered trademarks of Bayer.