---

Wellness - Wet Cat Recipes
Wet Cat Recipes
100% Grain Free, Complete and Balanced Meal
Wholesome, healthy, natural ingredients
No artificial colors, flavors, or preservatives
shop now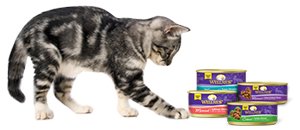 ---
A taste they'll love with the nutrition they deserve.
Available in 12 tasty varieties, Cubed, Sliced and Minced canned cat food recipes from Wellness® are the perfect way to treat your cat to the variety he's been waiting for.
For each delicious recipe, we've paired succulent cuts of wholesome, all-natural protein sources like chicken, turkey, salmon and tuna with delightfully savory sauces that are sure to please the palate of your furry friend.
For those cats that are in need of a single protein source diet, poultry-free and fish-free varieties are available. 100% grain free, complete and balanced meal.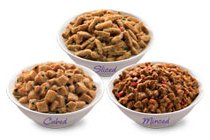 Convenient 3 oz. or 5.5 oz. serving size
No wheat, wheat gluten, soy or meat by-products
No artificial colors, flavors or preservatives
Perfect for encouraging hydration