---

Wellness - Core Grain Free Dog

Protein-focused diet with controlled levels of fat and carbohydrates
Includes Omega 3 fatty acids to help maintain healthy skin & coat
Optimal fat and calorie levels for everyday feeding
shop now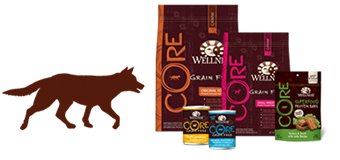 ---
What is protein-focused nutrition?
Wellness® CORE® is based on the nutritional philosophy that dogs, based on their primal ancestry, thrive on a diet mainly comprised of meat. Each kibble is packed with a high concentration of quality animal protein, without fillers or grains, along with a proprietary blend of botanicals and nutritional supplements.
How is CORE® different?
Unlike many grain-free diets, we've considered your pet's whole health by ensuring the overall nutritional equation remains appropriate for everyday feeding. Higher protein can also mean higher fat, minerals and calories. By thoughtfully selecting specialized ingredients and managing nutritional ratios, CORE delivers protein-focused nutrition thoughtfully - with balance, not excess.
This is grain-free nutrition the Wellness Way® - thoughtfully-balanced, nutrient-dense and created from the highest quality, cutting-edge natural ingredients. A diet so unique you can see it in your pet's weight, coat, digestion and overall radiance. Unlock your pet's core health with Wellness CORE.