---

how you can help
---
Donate to the Petco Foundation
Your generous gift to the Petco Foundation does incredible things. Last year, you helped 5 million homeless pets and countless other animals in need find their way home. Consider making a difference by donating today. With every gift, you change a life.
Donations can also be mailed to:
Petco Foundation
654 Richland Hills Drive
San Antonio, TX 78245
More ways to help:
become a monthly supporter
By making a recurring gift to the Petco Foundation, you helps animals in communities all across the country find loving homes year round.
Become a monthly supporter and change lives every month.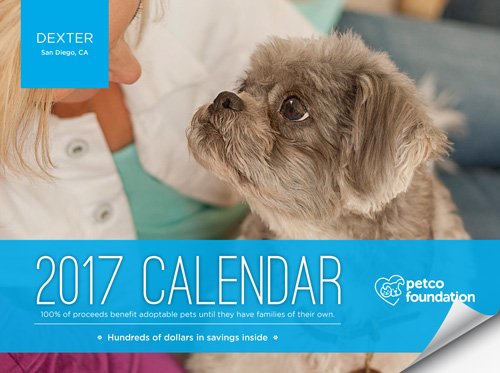 Purchase a 2017 Petco Foundation calendar for only $15!
Purchase a Petco Foundation calendar in stores and help give pets the greatest gift of all – a home. 100% of the proceeds benefit adoptable pets.
find a store
Think Adoption First
Looking to add a new pet to your family? We hope you'll Think Adoption First. There are millions of wonderful pets right in your community waiting for a family to call their own. Find your pet today and spread the word that adoption is the way to go.
Together, we're creating the change they all deserve. Your generosity makes all the difference.
---
Or connect with us on social media: