Nature's Variety - Philosophy

our nutrition philosophy
Nature's Variety believes dogs and cats should eat pure, unaltered, whole foods that complement their physiology – just as nature intended. Our foods are inspired by raw food, which we believe is the pinnacle of pet nutrition. Our formulas combine meat, poultry, and fish protein with other simple, natural, high quality ingredients to provide a variety of forms, flavors, and textures. To learn more, visit the Nature's Variety Ingredient Glossary
Since individual pets are unique and have special preferences and needs, we empower people to choose between forms and flavors to give their pet optimal health and happiness.
We are committed to using the latest research and nutritional knowledge to evaluate, innovate, and improve our foods. This dedication to the integrity of our brand goes beyond the finished product – it also includes our business ethics, ingredient sourcing, co-packing partnerships, and compliance with pet food regulations.
Finally, we are committed to actively sharing our expertise with others to foster a deeper understanding of pet nutrition and the transformative power of Nature's Variety.
---
products inspired by raw
Nature's Variety formulates every diet with raw in mind. In fact, we bring the benefits of our pure, healthy raw diets into every food we make even our kibble and canned foods!
"Raw-inspired" means we use only pure, natural ingredients and a high percentage of meat, poultry, and fish protein. We also bring the benefits of raw to our kibble with our exclusive freeze dried raw coating. Whether raw-coated or purely formulated, all Nature's Variety foods are raw-inspired.
freeze dried raw coating
Each piece of Instinct and Prairie Kibble is coated with a unique blend of our freeze dried raw food. This exclusive freeze dried raw coating is our special way of offering the great taste and nutrition of our raw food in every delicious bite of kibble your pet will love it!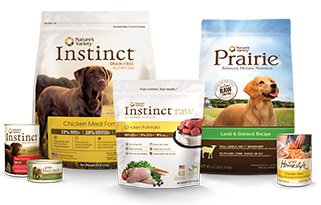 Pure, wholesome, natural ingredients just as nature intended.