Nature's Variety Instinct
Instinct® offers pure, grain-free, instinctive nutrition in every variety.
Instinct® Originals
Grain-free, Gluten-free. Instinct® Originals Kibble contains 70% pure animal ingredients, 30% fruits and vegetables. Also, Instinct® cans are 95% meat & liver, and 5% fruits and vegetables. Improved skin and coat, weight management and increased energy are some of the amazing testimonials we receive about our food.

---
Instinct® Limited Ingredient Diets
For some pets, less is more. Our Limited Ingredient Diets are made with only pure, simple, essential ingredients that have been carefully chosen for their nutritional value and high digestibility.
Instinct® Healthy Weight
Instinct® Healthy Weight brings you grain-free kibble with less fat and fewer calories. Plus it has added Raw Boost™ – pure, delicious, and fully satisfying freeze dried raw pieces.
---
Instinct® Biscuits & Raw Boost™ Treats
Grain-free, Gluten-free, and Guilt-free. Our delicious, oven-baked biscuits and freeze-dried raw treats are made with pure and wholesome ingredients. Instinct® Biscuits and Raw Boost™ Treats and Minis provide a nutritious raw snack for your dog that you can feel good about!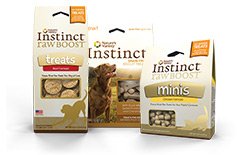 ---
Instinct® Raw Boost™
The 1st & Only product line to offer
Kibble plus Raw together in the same bag!
Instinct® Raw Boost™ is the perfect combination of convenience and nutrition to give pets vibrant health. It's never been easier to provide the pure and wholesome nutrition of raw. It's available for dogs and cats in a variety of sizes and proteins.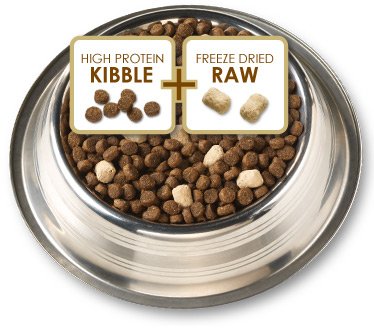 Pure, Instinctive, Grain-Free, and Gluten-Free Nutrition