Enjoy more tail wags and face licks with nutrition that maximizes the overwhelming joy of simply being a dog.
Enjoy more tail wags and face licks with nutrition that maximizes
the overwhelming joy of simply being a dog.
---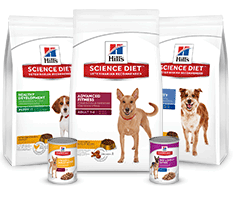 Lifestage
Natural* healthy nutrition for every stage of life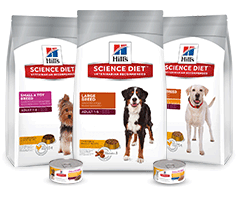 Breed Size
Natural* healthy nutrition tailored to your dog's size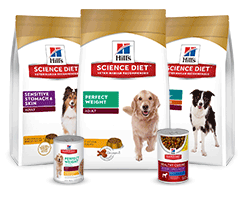 Specialized Solutions
Natural* healthy solutions customized for dogs with specific needs
---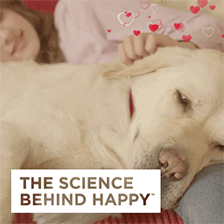 The Science Behind Happy™
See what our wholesome ingredients, precise nutrition and high-quality standards can do for your dog. After all, when he's healthier, he's happier.
---
Vets' #1 Choice to Feed Their
Own Pets™
Veterinarians know a healthy dog food when they see one. That's why they give Hill's Science Diet® to their own dogs more than any other brand. When it comes to the Science Behind Happy™, they're experts.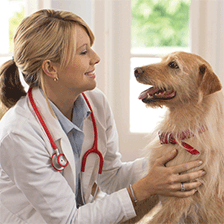 ---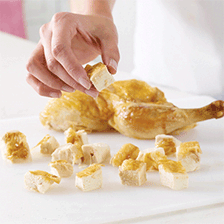 High-quality Natural Ingredients*
In an effort to make the best dog foods around, we use high-quality protein, including real chicken, lamb or salmon as the first ingredient in our dry dog foods. They're made with natural ingredients* and provide clinically proven antioxidant benefits. And they never contain artificial colors, flavors, preservatives or chicken by-product meal.
*Plus vitamins, minerals and amino acids
---
Precisely Balanced: The Right
Nutrients in the Right Quantities
While Hill's pet foods contain high-quality ingredients, our research proves that it's the proper balance of 50 nutrients supplied by those ingredients that is the key to optimal health for pets. Guided by our evidenced-based research, Hill's formulated its foods with a precise balance of these nutrients to meet the specific needs of pets associated with their lifestage, size or special needs.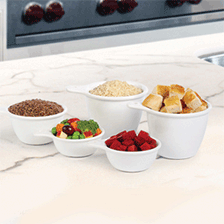 ---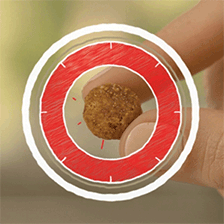 Quality
Our Science Diet® foods are made with ingredients that are checked for purity and nutrient content. It's all part of our desire to make the best dog food available to ensure your dog is as healthy and happy as he can possibly be.
---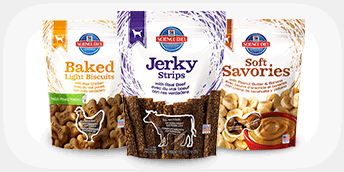 Science Diet® Treats
Every dog deserves a good treat! Choose a Science Diet treat for your dog today!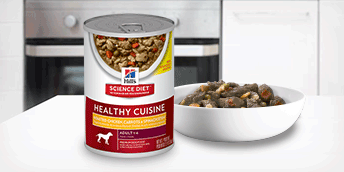 Introducing Science Diet® Healthy Cuisine
Healthy Cuisine is a wet food loaded with tasty morsels, tender vegetables and savory sauce pets love. This perfect balance of taste and nutrition gets dogs running to their bowls!
---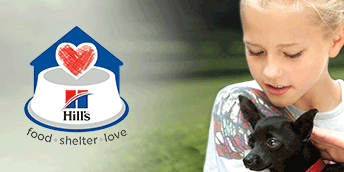 The Hill's Food, Shelter & Love® Program
At Hill's, we're about more than just pet food. We're about connecting pets to people. That's why we feed homeless pets everyday in over 700 shelters nationwide. That's the power of nurturing relationships through nourishing food.
---