Wee-Wee® Diapers
Wee-Wee® Disposable Diapers
Wee-Wee® Disposable Diapers can be used for a variety of situations, ranging from incontinence to untrained puppies to females in heat. Designed to ensure a proper fit on a variety of dogs, these diapers feature a fur-safe, Flex-Fit stretch waistband and a convenient opening for the tail. The diapers are free of chlorine, bleach, and dye and are available in four different sizes.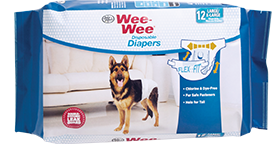 ---
Wee-Wee® Male Dog Wraps
Wee-Wee® Disposable Male Wraps protect against male marking, incontinence, and excitable urination. Each wrap is highly absorbent and adjustable for a snug fit, and they're available in two sizes.